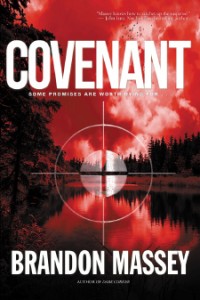 Dark Corner Publishing
Published November 2010
362 pages

Purchase:
Trade Paperback
Kindle ebook
Nook ebook
Apple iBookStore
Sony Reader
Kobo ebook

SYNOPSIS:
Some promises are worth dying for . . .
On a golden summer morning, fifteen-year-old Anthony Thorne is on a fishing boat with his father, rods cast into the lake, when the crack of a rifle shatters the silence. His father slumps forward, blood leaking from his chest. Horrified, Anthony spins in the direction of the gunfire, and sees a shadowy figure race away from the shore and vanish in the cover of the trees–a vision that will haunt him for years to come . . .
Anthony pulls his dad into his arms, but he is beyond help. He dies in Anthony's embrace, Anthony's scream of anguish echoing across the still waters.
Fifteen years later, a happily married Marine veteran and author of a bestselling series of crime novels, Anthony has achieved a measure of success. But the past still haunts him–in spite of his eyewitness testimony, his father's murder was declared a hunting accident, and no one was ever brought to justice.
On the anniversary of his father's death, a mysterious message arrives from an unknown sender that promises to lead Anthony to the truth. But is Anthony's helper the angel he'd been waiting for–or a devil in disguise?
Determined to find answers, Anthony and his wife soon find themselves hunted by a team of assassins dispatched by a powerful organization with frightening technological resources. The killers pursuing them are as fanatical in their beliefs as they are well-equipped–loyal followers of a charismatic leader who might be the most dangerous man in America . . .
Lightning-paced and gripping from the first sentence to the explosive finale, Covenant marks Brandon Massey's entry into the arena of high-stakes action thrillers–a story exploring today's issues that will resonate with readers long after they've turned the last page.