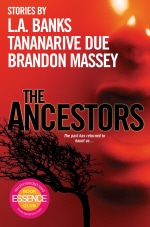 Kensington Publishing
Published November 2008

Purchase:
Trade Paperback
SYNOPSIS:
Dead.
Some evils are so great that they transcend death. In Brandon Massey's "The Patriarch," a young writer travels to the hushed backwoods of Mississippi, where dangerous secrets surface as a generations-old feud comes to bone-chilling new life…
Buried.
The souls of the mistreated always find a way to be heard. In L.A. Banks's "Ev'ry Shut Eye Ain't Sleep," violent visions haunt a man—until he's handed an opportunity to right the wrongs of the past and prevent unspeakable acts from occurring once again…
Forgotten.
When horrors are covered up and lost, our ancestors must find a way—even in death—to tell their tales. In Tananarive Due's "Ghost Summer," ancestors haunt the nights of two children. And when a grisly discovery is made, these ancestors will make their mark on both the dead and the living…